---
Chapels
Macquarie Park Cemetery and Crematorium provide three large chapels, a small chapel and an outdoor pavilion for guests to gather and celebrate their loved ones. Each of the large chapels offer identical facilities to ensure a service that is special and memorable.
Chapel Service Times
Forty-five minutes is allocated for each chapel service. Extra time, however, can be booked in advance with the assistance of your funeral director.
Facilities:
We offer free webcasting facilities for all our services.
Each chapel can be used for memorial, cremation or burial services.
Generous porte-cochere for weather protection and large gatherings fitted with wide-screen LED screens and speakers so everyone can view the service, inside or out.
Private viewing and family room, as well as individual courtyard, offering families pre or after service privacy.
Each chapel seats up to 200 people and has the ability to accommodate 300+ with additional outdoor seating.
Level access allows those in wheelchairs and the elderly to attend without concern.
Electronic keyboards are in all chapels plus a full church organ in the Palm Chapel, for your use.
A courtesy vehicle can transport those in need to either the burial site or function area after the service. Please arrange this with your funeral director prior to the service.
Our audio visual system gives a wide choice of options for funeral and memorial services. Families can display presentations on our large wide-screen LEDs, and our sound system ensures everyone inside and outside the chapel can join in the service.
Each chapel is easily adapted for services of all faiths and denominations.
A Hearing Loop is in all chapels. All chapels are easily accessible from car parks and function centre and are surrounded by beautifully landscaped gardens.
Upon arrival at the well sign posted grounds, visitors can easily find their appropriate chapel with their service information displayed on the large screen located in the circular carpark.
---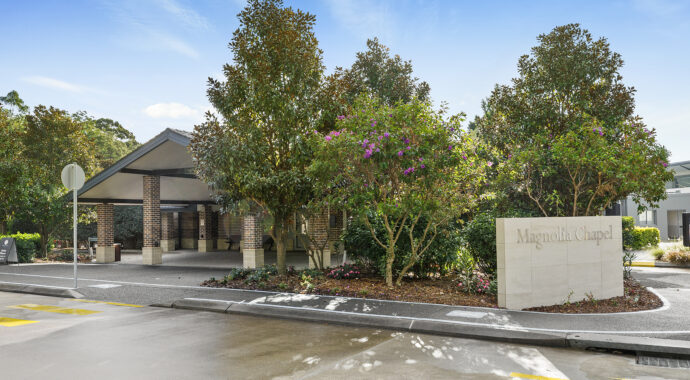 Magnolia Chapel
Magnolia Chapel boasts established magnolia trees with scented gardenias bordering the front of the chapel. Magnolia Chapel's services are available on the hour.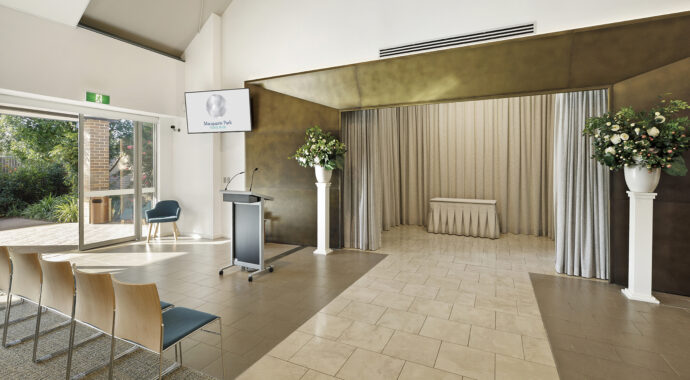 Palm Chapel
Palm Chapel has a varied group of palm trees including dwarf dates, sago palms and foxtail palms. Philodendrons, yellow and red hibiscus and begonias border the garden. Palm Chapel's services are booked 15 minutes past the hour.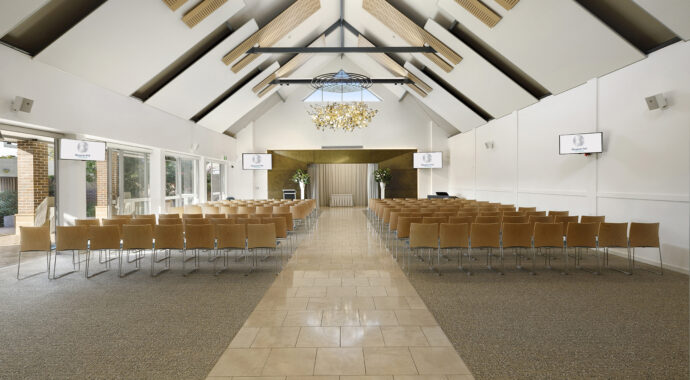 Camellia Chapel
Camellia Chapel has an extensive variety of camellias, varying from white to vibrant pink, all of which are in full bloom in the winter months and provide rich green foliage during the year. The camellias also attract king parrots to the areas. Camellia Chapel's services are booked at 30 minutes past the hour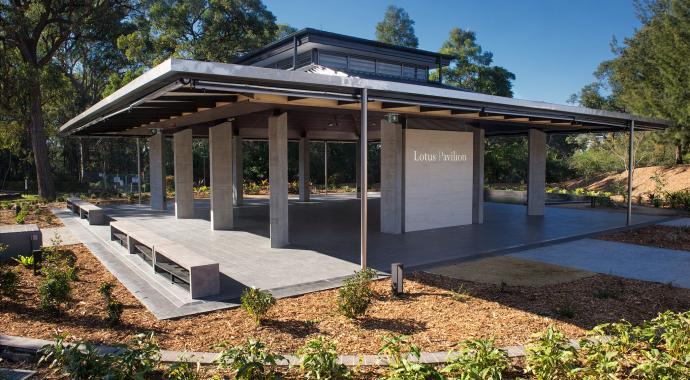 Lotus Pavilion
The Lotus Pavilion is an open air chapel at Macquarie Park offering an alternative setting for services. Set in landscaped gardens close to Wallumatta Function Centre, the pavilion provides a private yet modern haven for services. The pavilion has seating capacity for 160 people, with additional space at its side if required. The Lotus Pavilion is available to the wider community, of all faiths and denominations, for services of their choice. Lotus Pavilion bookings are scheduled on the hour, all with additional time slots available if required.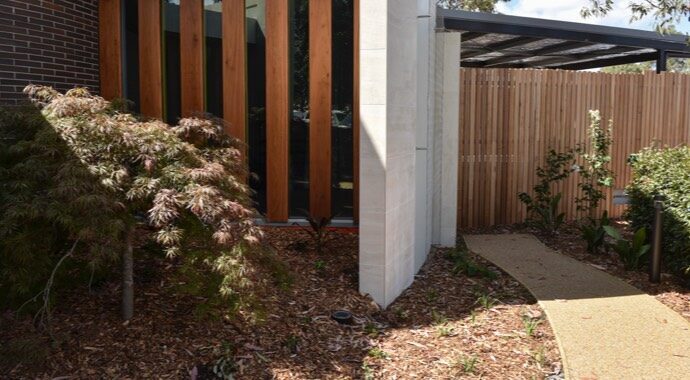 Rose Chapel
Provides a modern setting for small services. Located for immediate access to the crematorium, it has visual connection from its interior to the green surrounds through carefully placed picture windows. With a maximum seating capacity of 35 people, it is an ideal environment for private gatherings. Rose Chapel services are booked at quarter past the hour.
---
Music and Audio-visual requirements
Our experienced chapel commissionaire will be available to facilitate any audio-visual/music presentations you may have. To ensure compatibility, all presentations must be tested at least 48 hours prior to your scheduled service. Testing is to ensure the seamless running of your presentation. Please use the links below to check our requirements or for instructions on uploading to dropbox. 
Audio Visual Requirements & Dropbox Instructions
Virtual Service requirements