---
Gore Hill
Please note: Announcement from the Friends of Gore Hill Cemetery
The Friends are having two meetings which we would like you to know about.
The first is the committee meeting, which people from Northern Cemeteries do attend, it is set down for Friday 3rd December at 10.30 am in the Robing Room.
The second is the Annual General Meeting which is set down for Sunday 19th December at 10.30am in the Robing Room. This is usually just for the Friends.
One item which we will discuss is the notice from the Clean Up Australia Group to take part in the clean-up for 2022. This we of course have done in previous years. It is no reflection on the state of the Cemetery, but it enables people to get to know the Cemetery.
We will ask for double vaccination certificates for both events.
---
Gore Hill Memorial Cemetery is one of the oldest and largest remaining cemeteries in metropolitan Sydney. Located in St Leonards the cemetery occupies an area of 5.81 hectares and was originally laid out as a formal Victorian/Edwardian garden.
---
People visiting from a NSW hotspot:
Northern Cemeteries requests that all people visiting a Northern Cemeteries site to attend a funeral or for other purposes adhere to the current health directives of the NSW Government and not attend if they live, or have visited a NSW hotspot in the last 14 days.
Gate Opening Times: 6.00am – 6.00pm non daylight saving; 6.00am – 7.00pm daylight saving
Contact Us: 1300 389 888
---
Cremation Options
We offer a quality range of cremation services for you to choose from. Talk to one of our team of knowledgeable and caring Family Consultants if you have any questions or would like further information or assistance.
Purchasing an Ash site
Ash sites at Gore Hill Cemetery and Crematorium are available in either, single, double or family estates. More details on our range can be located at the bottom of this page and we have many cremation options available to choose from.
A standard ash site purchase includes:
The right of interment for the site
One interment
Perpetual maintenance of the grounds
Additional options available:
Bronze Plaque
Ceramic Photo
---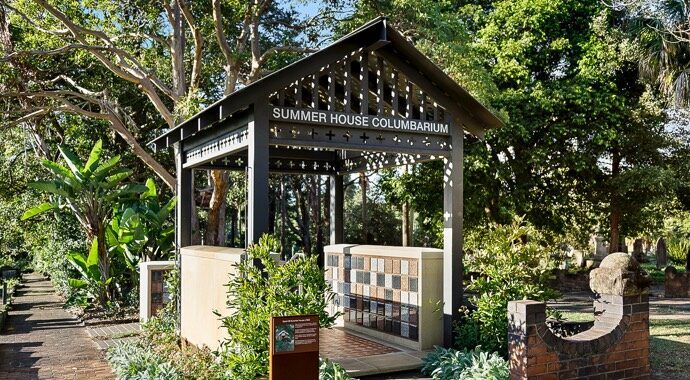 Summer House Columbarium
Rebuilt after a damaging fire in January 2017, the Summer House Columbarium at Gore Hill Cemetery provides an attractive memorial setting for the interment of ashes.
From $2,700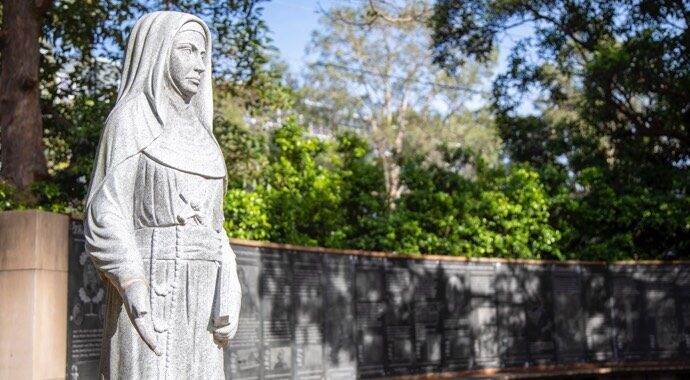 Saint Mary MacKillop Ash Wall
This secluded area offers a peaceful location for quiet prayer and reflection. It features a memorial wall of cast aluminium plates depicting the life and work of Saint Mary MacKillop.The memorial wall provides a unique, dignified and respectful place for the interment of ashes.
From $2,525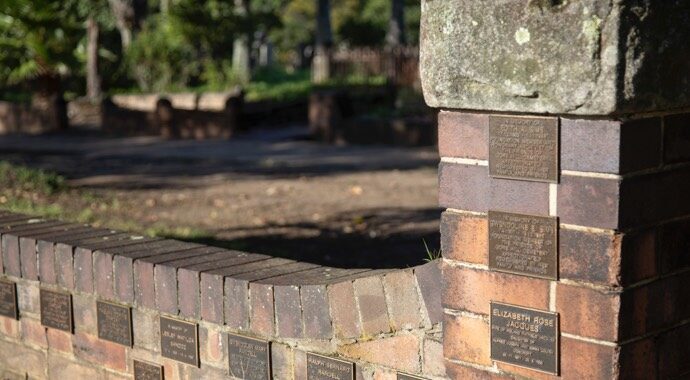 Memorial Wall
The cemetery provides a memorial garden wall along the carriageway where a plaque can be placed to memorialise your loved one. This is a lovely option for those who have scattered ashes elsewhere, but can be remembered in a beautiful heritage location.
From $515
---
Location map
---
Gore Hill Memorial Cemetery, Pacific Highway, St Leonards NSW 2065, Australia
---