---
100 Years of Caring
In 2022, Macquarie Park Cemetery and Crematorium marks a century passed since its first burial took place.
Well known for its serene and picturesque parkland gardens, Macquarie Park Cemetery and Crematorium is the largest cemetery on Sydney's North Shore, spanning 59 hectares of Crown land.
The land the cemetery stands on, bordering Lane Cove River and National Park, was originally native bushland. The traditional custodians of the land, the Darug Wallamatta People, had a deep sense of belonging with these ancient and sacred lands. This connection endures today, and we acknowledge and pay our respects to the traditional custodians, past, present and emerging.
Establishment as a cemetery
Following European settlement in the late eighteenth century, much of the area was gradually developed for farms and housing, leading to rapid population growth. The need to obtain a suitable setting for a general cemetery on the northern suburbs had "long been agitated for by residents on the northern side of the harbour", according to an article in Sydney's Evening News, dated 3 December 1898.
On 9 July 1902, Northern Suburbs General Cemetery was dedicated. The name changed in 2004 when a new crematorium and chapels were established on the Delhi Road site.
It would be another two decades after dedication before the first burial took place, Henry Mashman's, on 20 April 1922. Arriving in Australia in 1883 with his brother William, the duo initially partnered with potter James Sandison at Willoughby (now Chatswood), Sydney, in 1885, establishing a pottery manufacturing business, Mashman Bros Victoria Pottery, on the same site from 1888. After making a renowned range of 'Regal Art Ware' in the 1930s, and supplying utility wares during WWII, Mashman Bros merged with Royal Doulton in 1957.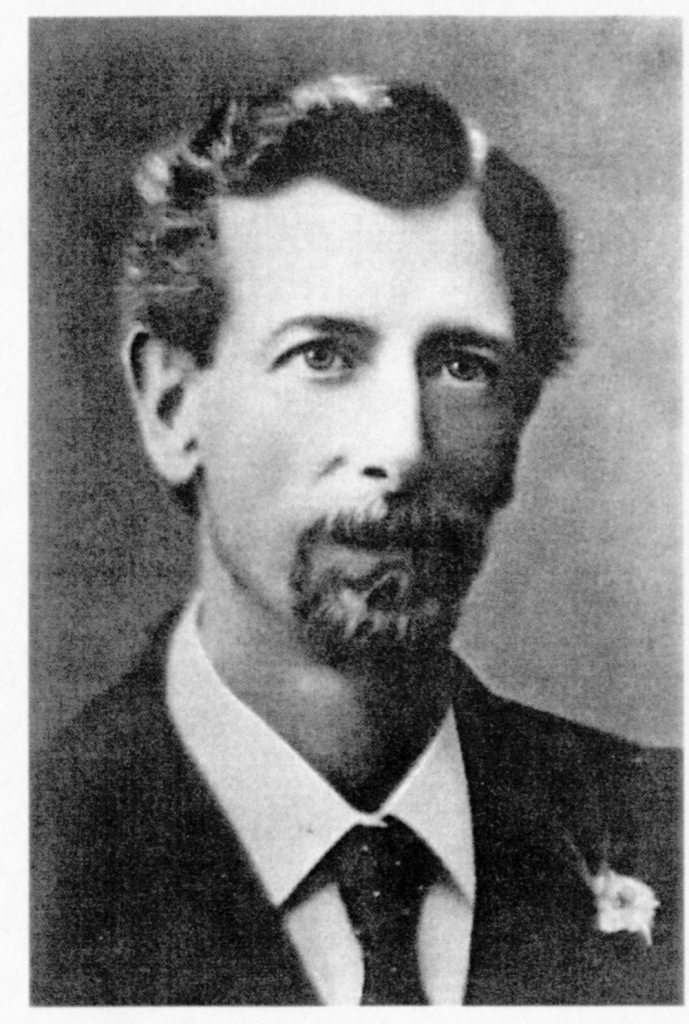 The early layout of the grounds reflected contemporary design principles of a 'garden cemetery'. A curvilinear road network and intersecting pathways separated the various sections, with gardens and shelters providing attractive spaces for visitors to gather. Catholic, Anglican and Jewish burial sections were among the first laid out, initially for monumental graves, mostly granite and sandstone.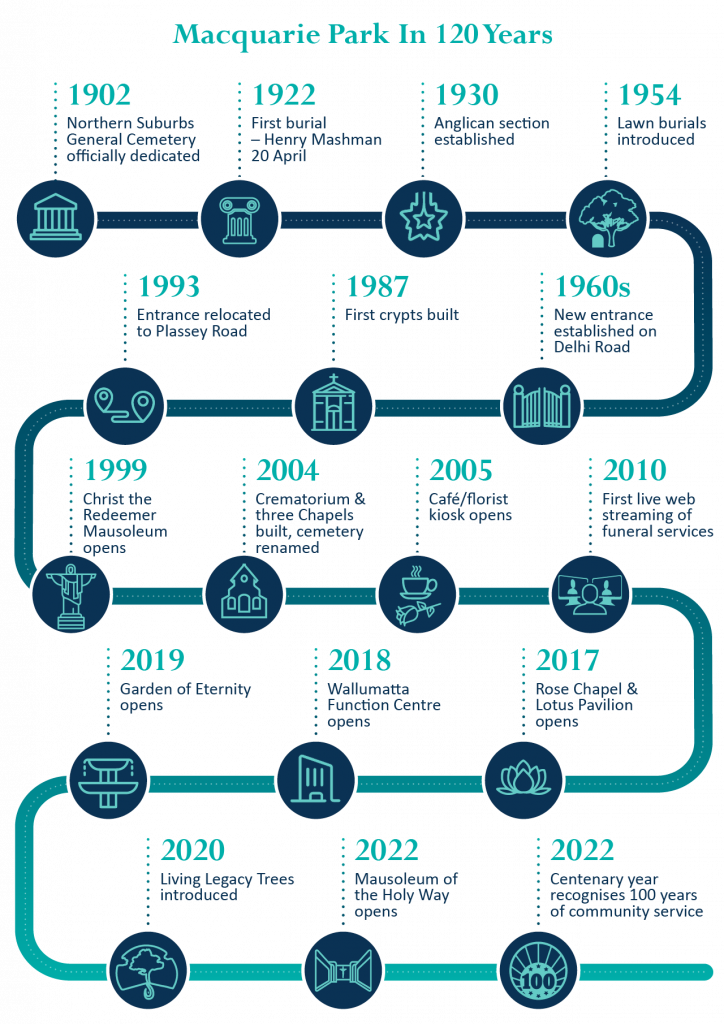 Growth and development
Macquarie Park has expanded and significantly developed the site's grounds, facilities and amenities over the last century.
Photographs from the early 1930s show established plots in the Anglican Section and the clearing of land to accommodate further gravesites located at the northern end. A largely undeveloped area, with mainly orchards and market gardens to the south and west, surrounded the cemetery. The site featured a mature landscape of native Araucaria species (evergreen coniferous) trees, much of which has been retained and remains a distinctive feature of the cemetery, with palms and flowering shrubs introduced in successive years.
In 1954 Macquarie Park was one the first cemeteries in NSW to introduce lawn burials. During the 1960s a new entrance on Delhi Road was constructed with new gates installed. This was relocated to the current entry along Plassey Road in 1993. The original staff maintenance depot was built adjacent to the office during the early 1960s and further extended in the late 1970s.
The cemetery's first crypts were opened in 1987, and Christ The Redeemer mausoleum housing 200 crypts built in 1999. Niche walls for cremated remains were introduced during the 1980s. Between 2004 – 2018 extensive development and refurbishment took place including a new crematorium, five chapels, a cafe/florist kiosk, and the impressive Wallumatta Function Centre overlooking Lane Cove National Park.
Diverse communities
Over the last quarter century, burial grounds and gardens, along with interment and ash memorial options and services, have extended to cater for growing and diverse individual, cultural, and religious needs.
The opening of Ascension Hill Gardens in the northern part of the site and the Stations of the Cross provided new burial choices for Catholic families, while Jewish and Armenian burial grounds have continued to expand.
To meet growing demand for ash memorialisation, a number of new gardens have been established, such as Garden of Eternity, which features Asian design features representing fortune and longevity for families, both now and for future generations.
Opening in 2022, the new Mausoleum of The Holy Way has been designed to complement existing surrounds. This striking semi-open structure, featuring natural stone and extensive landscaping, will offer a sanctuary for remembrance, worship, and quiet reflection. The mausoleum houses 660 above ground crypts, family vaults, and various columbaria spaces for ash interments.
Notable burials
Numerous prominent and historical figures, many who lived on the North Shore, are interred at Macquarie Park. Among the most notable are Sir Robert John Kerr (Governor General), William Morris 'Billy' Hughes and Bob Hawke (Prime Ministers), suffragette Adela Pankhurst, novelist Ethel Turner (Seven Little Australians), and celebrated entertainers Lottie Lyell, Johnny O'Keefe, Don Lane and Rob Guest.
Community connection
Connecting with the community and stakeholders remains an important priority for the not-for-profit organisation. With a vision to ensure that everyone has access to respectful dignified services and memorialisation, a major research and consultation project was conducted in 2020. This provided an opportunity to explore future needs for end of life services and care, including different burial methods and internment. The initiative gathered feedback on what Macquarie Park does well and identified areas for improvement. The results are helping to inform future planning.
Our people are our most important asset, and our staff have worked tirelessly to ensure memorial services continue through the Covid-19 pandemic and other challenges. Keeping staff and families safe while continuing to support families during difficult times of grief and loss remains our highest priority.
Looking ahead
Innovation has played its part in responding to changing community needs and expectations. Introduced a decade ago, live web streaming of memorial services proved invaluable in helping to connect families during COVID restrictions.
And in a first for NSW, we introduced Living Legacy Trees in 2020 as an everlasting and environmentally sensitive memorialisation option, providing a green and clean alternative for scattering the ashes of loved ones.
Now managed under Office of OneCrown Cemeteries Macquarie Park's 2022 Centenary, and 120 year milestone since dedication, reflect a strong history of service and an abiding commitment to connecting and caring across the past, present and into the future.
History, walks and tours
History walking tours at Macquarie Park allow you to learn more about the remarkable lives and contributions of people who helped shape Australia.
There are resources available to accompany self-guided walking tours or you may wish to participate in our themed History Tours series organised for group bookings.
Notable burials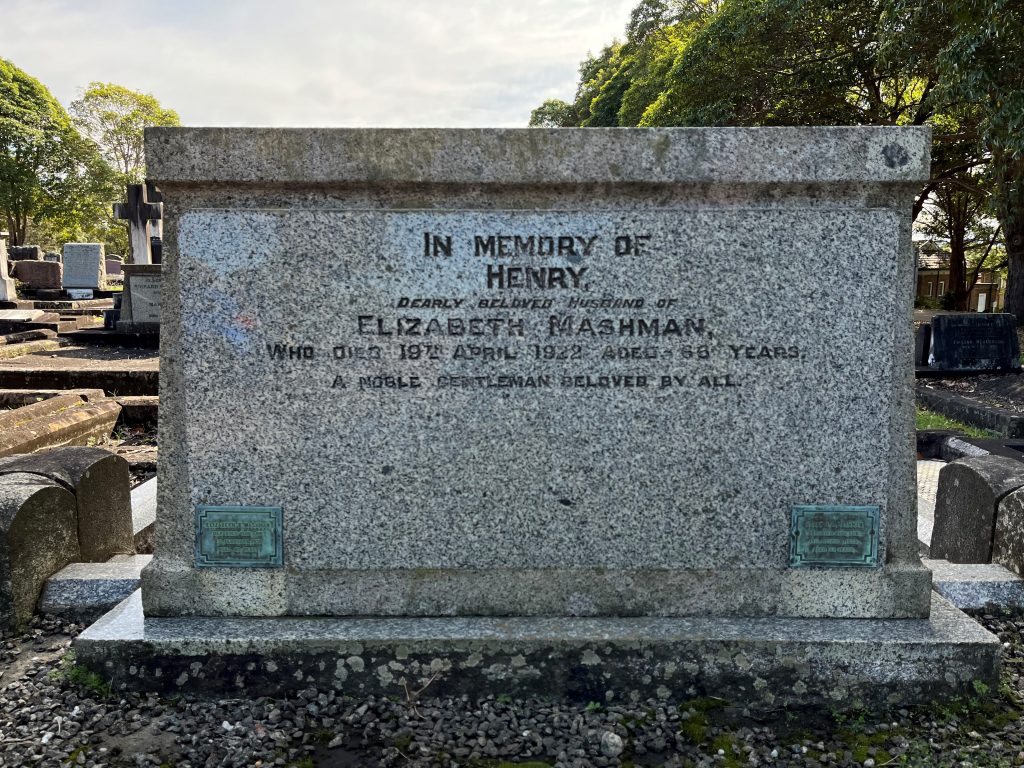 Henry Mashman – first burial at Macquarie Park Cemetery, 20 April 1922
Englishman Henry Mashman emigrated to Australia with his brother William in 1883. Together they initially partnered with potter James Sandison at Willoughby (now Chatswood), Sydney, in 1885, and then established a pottery manufacturing business, Mashman Bros Victoria Pottery, on the same site from 1888. Having both trained as potters at Doulton's Lambeth works (Royal Doulton) they produced various household objects as well as pipes and chimney pots. With their brother John, their business grew steadily to become a major local employer with sites operating at both Chatswood and Auburn (from 1890). Henry, 67, died on 19 April 1922, at a private hospital and was buried at Macquarie Park Cemetery (formally Northern Suburbs General Cemetery) the following day. A number of Mashman descendants are also interred there.
Today, pottery by Mashman Bros features in a number of significant decorative arts collections including the Powerhouse Museum and the National Gallery in Canberra. Mashman Park is situated on the original Mashman Bros business site at Chatswood, commemorating the renowned pottery enterprise. For more information on Henry Mashman click here.
The right honourable 'Billy' William Morris Hughes, CH KC MP – Prime Minister
Born in Pimlico (London), England, he was the son of William Hughes and Jane, née Morris. In 1884 at age 22, he set sail for Australia as an assisted migrant on the Duke of Westminster, reaching Brisbane on 8 December. He spent the next two years roving Queensland, taking various jobs and acquiring knowledge of the outback. In 1892, Hughes made his political début as a street-corner speaker for the Balmain Single Tax League. He was soon elected to the New South Wales Legislative Assembly in 1894, as a member of the New South Wales Labor Party, and then transferred to the new federal parliament in 1901.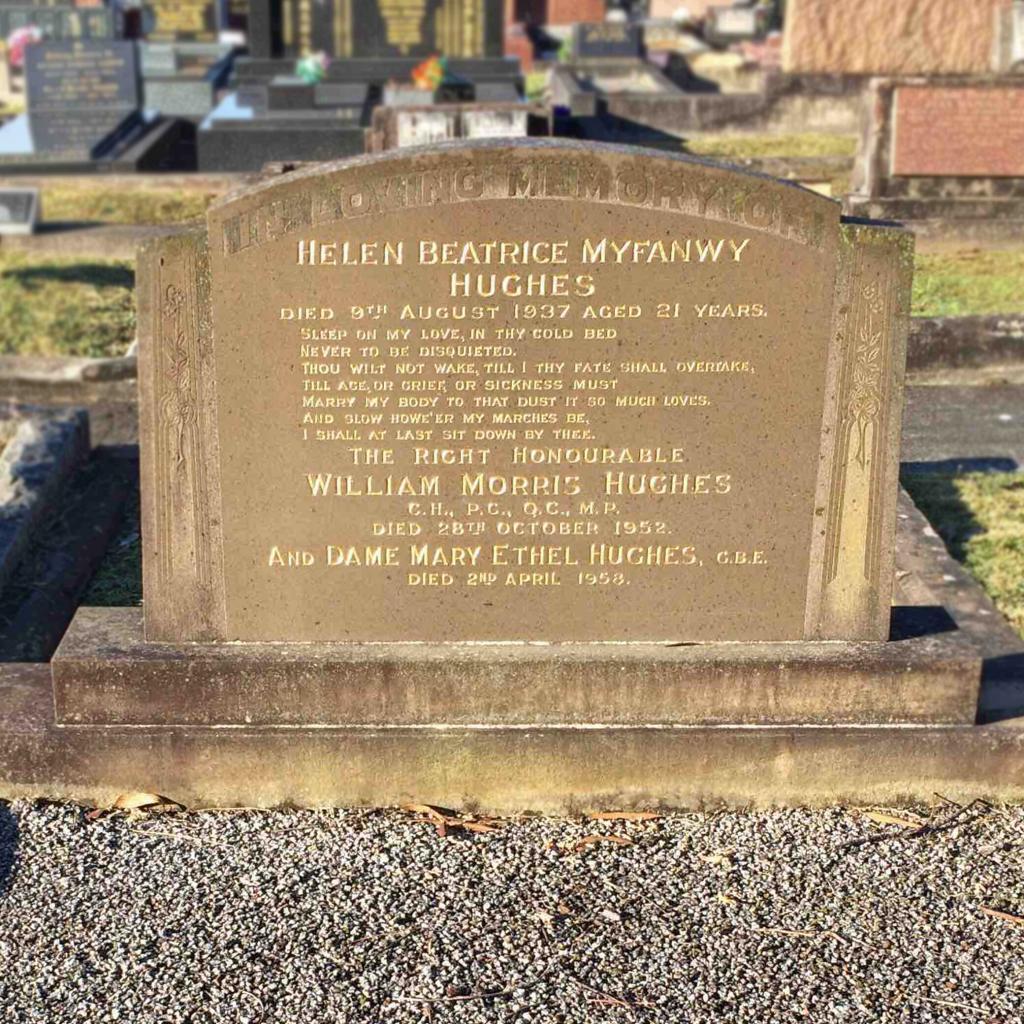 The right honourable Sir John Robert Kerr, AK GCMG GCVO QC – Governor General
Born in Balmain (Sydney), Australia, the eldest of eight children of New South Wales-born parents Harry Kerr, a boilermaker, and his wife Laura May, née Cardwell. Kerr completed his Law degree in 1936 at The University of Sydney and was admitted to the Bar in 1938. In 1942 Kerr began full-ti me duty in the Citizen Military Forces. His promotion was rapid: two steps to major in 1943 and, following his transfer to the Australian Imperial Force, to lieutenant colonel in 1944. He was appointed a QC in 1953 specialising in industrial law.
'Lottie Lyell' Charlotte Edith Cox – Silent Film Actor
Born in Balmain (Sydney), Australia, the middle daughter of Joseph Charles Cox, and Charlotte Louise, née Hancock, both Australian born. Around 1906, her parents placed her in the care of Raymond Longford, an actor with Edwin Geach's Popular Dramatic Organisation, which she joined at 17. She toured country towns with Longford, adopting the stage name 'Lottie Lyell' in 1909 when she appeared in the play An Englishman's Home in Maitland. For several years, she toured Australia and New Zealand in romantic melodramas. Returning to Sydney, they both entered the new industry of 'silent' fi lms.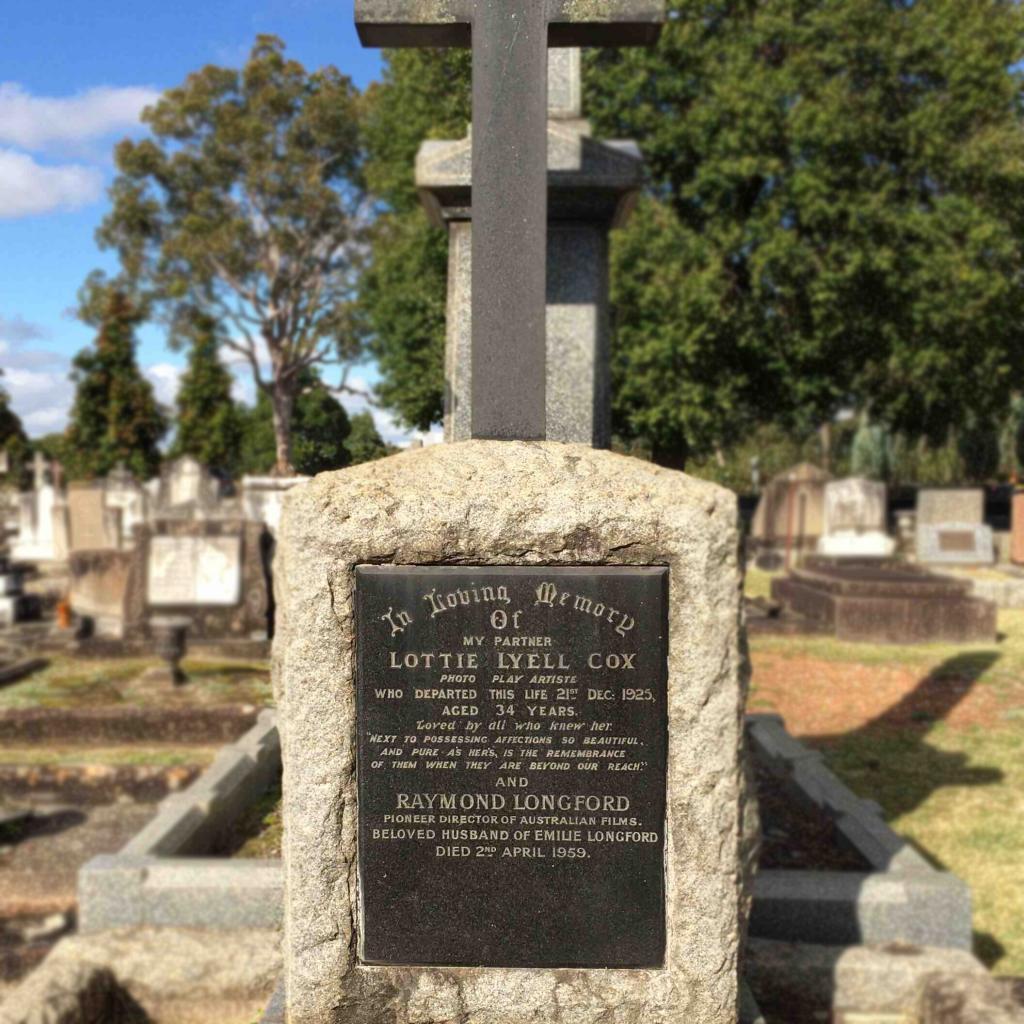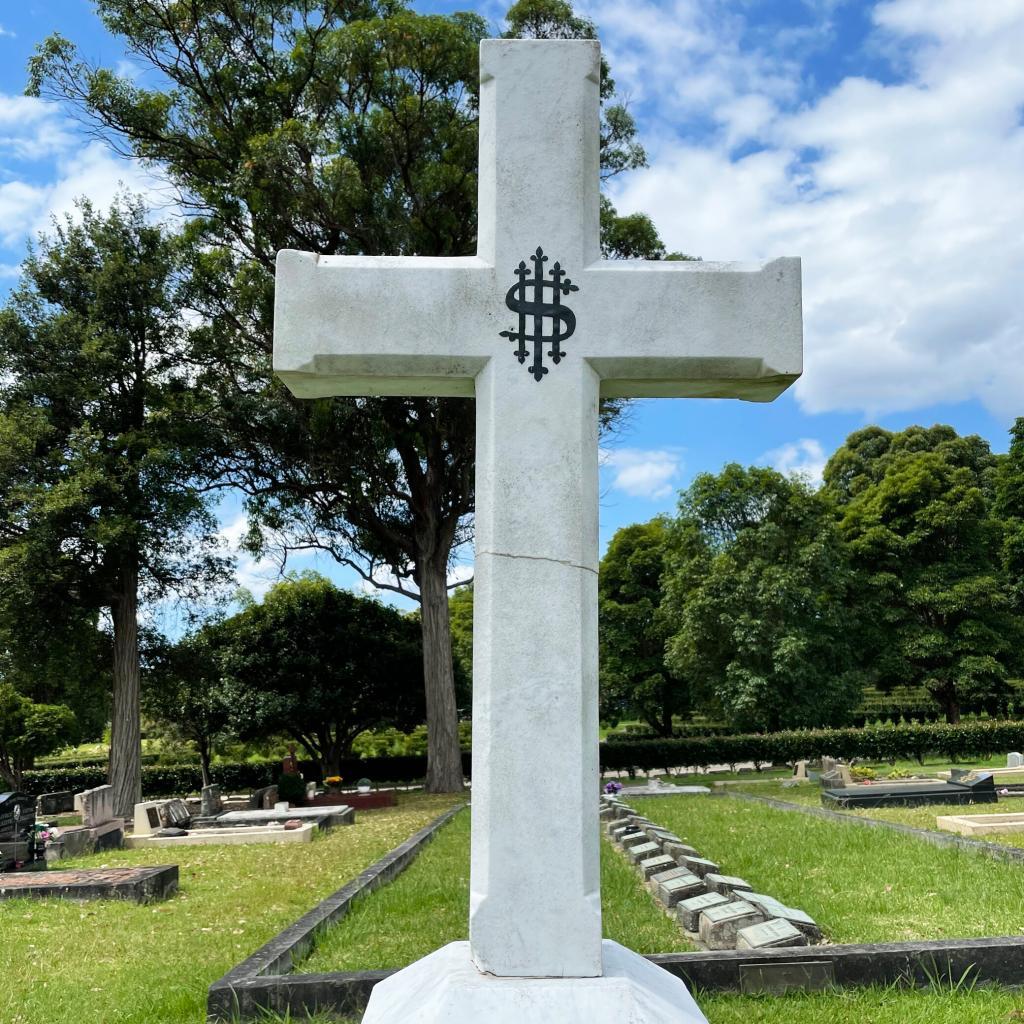 Flora Hannah MacKillop – Mary MacKillop's Mother
Born in Fort William, Scotland, to Donald and Catherine McDonald, she became very musical and well educated. Just before her 24th birthday in 1840, she arrived in Melbourne with her mother and younger brother, Donald. Another brother, Alexander, had passed away on the journey. She married Alexander MacKillop that year and their first child, Mary, was born on 15 January 1842. Flora and Alexander went on to have eight children.
'Don Lane' Morton Donald Isaacson – TV Legend
Born in New York, USA to a Jewish father Jacob Isaacson and a Catholic mother Dolly. Raised in The Bronx, by his mid-teens he decided he would be in show business. He entertained at parties, played varsity football and basketball, and later gained a scholarship. After college, Isaacson worked in New York nightclubs but was then drafted into the US Army at 21. He formed a double act with a soldier, which went on to win a contest that earned them an appearance on The Ed Sullivan Show in 1955. After service, he toured all over the country entertaining troops.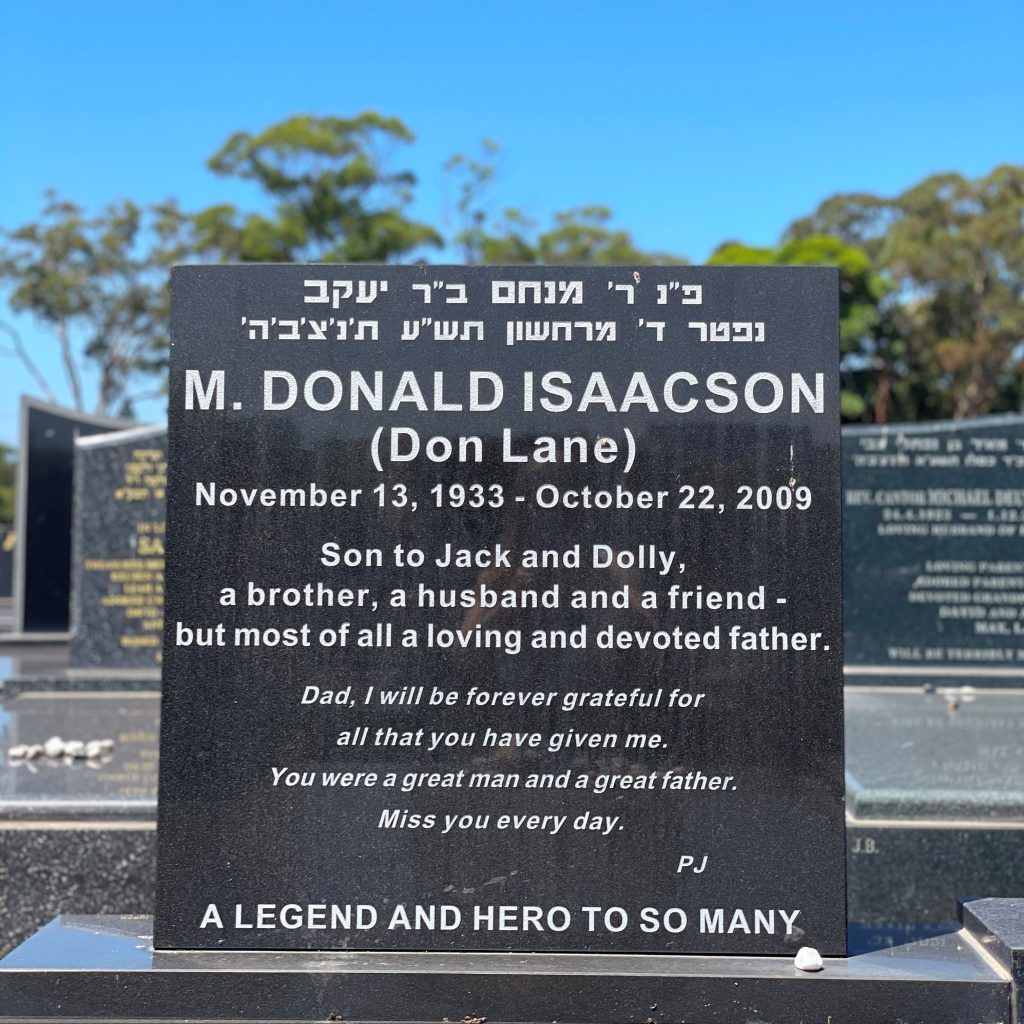 Henry Mashman History
Born in Lambeth, London, Surrey, England on 2 April 1855, Henry Mashman was the sixth child of James Mashman and Harriett Frances Mashman (nee Baker).
Pottery skills were generational in the Mashman family, beginning with his father James who was apprenticed to Sir Henry Doulton at the Doulton Lambeth works in England and who worked there his whole life. An apprenticeship in those times took 10 years to complete. As was common practice of the time, his five sons became apprenticed there also.
Henry is listed on the 1871 English census as being a potter's boy and living with his parents and family at 12 Vauxhall Terrace, Lambeth. Henry was apprenticed as a fancy ware thrower at Doulton's Lambeth and at the age of 19 years was said to have been the second-best thrower in England. His father James died in January 1876. In the 1881 Census Henry is listed as 25 years, single, a potter living at 9 Tyers Street, Lambeth. Read more on the history of Henry Mashman here.
Prepared by Willoughby District Historical Society and Museum –April 2022
Tell us your story
Many thousands of people have visited Macquarie Park Cemetery and Crematorium over the last 100 years to pay their respects to loved ones. As part of our centenary celebrations we are keen to hear from you! If you have a memory to share of how you have seen the cemetery develop and evolve over the years, we would love for you to share this with us. Please share your story by emailing friends@nmclm.com.au.