4 April 2022
More than 90 guests connected with the northern beaches and north shore Armenian community, attended the dedication of a unique memorial at Frenchs Forest Bushland Cemetery on Saturday 2 April.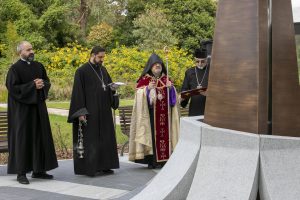 Commissioned by Northern Metropolitan Cemeteries Land Manager, the striking monument pays tribute to the memory of the estimated 1.2 million Armenian souls lost during the genocide of 1915 by the Ottoman State.
"Northern Cemeteries is proud to offer Sydney's Armenian community an eternal place of commemoration where they can gather, remember, and pay respect to the victims of the past," stated Lee Shearer, Administrator, NSW Crown Cemeteries.
"Designed by Andre Vahagn Vartan-Boghossian, a member of the Armenian Apostolic Church of Holy resurrection, the stone base of the monument represents the Armenian historic culture and knowledge, as a tree rooted in the earth where the Armenians of the past rest.
"Portrayed in the break of the stone is the Armenian genocide of 1915, an event which defines the identity of all Armenians today and is where the culture was once on the brink of coming to a halt. Out of the trunk blossoms the continuation of this culture in a new form, no longer in stone but in bronze. It is a new culture, augmented by the past and flowering in Australia."
The monument plaque was officially unveiled by His Eminence Archbishop Haigazoun Najarian, Primate of the Diocese of the Armenian Church of Australia and New Zealand Archbishop, and the Hon. Jonathan O'Dea MP, Member for Davidson and Speaker of the New South Wales Legislative Assembly. The unveiling was followed with a blessing by the archbishop.
The new monument is located in the Armenian Lawn section at Frenchs Forest Bushland Cemetery, Hakea Drive, Frenchs Forest.
About Northern Metropolitan Cemeteries Land Manager
Northern Metropolitan Cemeteries Land Manager (NMCLM) is a not-for-profit organisation that consists of five unique cemetery sites: four located on Sydney's north shore/northern beaches, and Sandgate Cemetery in Newcastle. Each location has its own distinct personality, catering to diverse communities with individual cultural, traditional, and religious needs.