Prepared by Willoughby District Historical Society and Museum –April 2022
Born in Lambeth, London, Surrey, England on 2 April 1855, Henry Mashman was the sixth child of James Mashman and Harriett Frances Mashman (nee Baker).
Pottery skills were generational in the Mashman family, beginning with his father James who was apprenticed to Sir Henry Doulton at the Doulton Lambeth works in England and who worked there his whole life. An apprenticeship in those times took 10 years to complete. As was common practice of the time, his five sons became apprenticed there also.
Henry is listed on the 1871 English census as being a potter's boy and living with his parents and family at 12 Vauxhall Terrace, Lambeth. Henry was apprenticed as a fancy ware thrower at Doulton's Lambeth and at the age of 19 years was said to have been the second-best thrower in England. His father James died in January 1876. In the 1881 Census Henry is listed as 25 years, single, a potter living at 9 Tyers Street, Lambeth.
Henry Mashman arrived in Sydney with his brother William on 10 July 1883 on the clipper 'Windsor Castle'. His brother William, a small wares thrower and recent widower with two sons, had convinced Henry to migrate to Australia due to opportunities available for artisans. The brothers began work soon after at the Fieldsend Pottery at Maitland and were soon looking for a suitable area around Sydney in which it set up a pottery. The North Shore district of Sydney was attractive as it had plenty of clay deposits of excellent quality.
In July 1885 Henry with brother William formed a partnership with John Sandison to establish the 'Mashman & Sandison Victoria Pottery, Willoughby'. The three partners set to work with the assistance of a boy who turned the potter's wheel. The Mashman brothers began work in the pottery making salt glazed domestic ware. It was to be a winning combination as the partners won a prize at the North Shore Pioneer Industrial Exhibition held at St Leonards in 1886 where they exhibited a variety of domestic ware and chimney pots. Hand thrown stoneware and salt glazed jars and bottles were produced and the company began to flourish. The Mashman family all lived in residences on the Chatswood site at this time.
In 1887 the firm purchased more land adjacent to the current works. They also purchased land nearby at East Roseville with a good clay deposit. This clay was mixed with clay on site to produce an excellent clay body from which to make wares.
In 1888 another brother, John Mashman, arrived with their mother Harriett, living in a second house in Jacques Street. John joined the firm as a skilled turner and sticker and the business was expanded with the purchase of a steam driven pipe machine which improved production.
1890 was a significant time for the two Mashman brothers as the firm of Sandison and Mashman was dissolved. Sandison signed a Deed of dissolution of partnership agreement with William and Henry and was paid £160 on the condition he would not set up a business within 20 miles of the GPO for a period of not less than five years. John Mashman took over a small redware and pipe factory, 'The Carrington Pottery' at Auburn, in the same year. The brothers registered their potteries at both Willoughby and Auburn. In 1892 Sandison sold his share of the Chatswood business to John, each brother now having a third share in the 'Mashman Brothers Victoria Pottery'. Terracotta and stoneware articles were produced including chimney pots, urns, chicken feeders, bread crocks and jars.
Henry married Elizabeth Theresa Simpson (nee Weiland) registered at St Leonards in 1893. Elizabeth was previously widowed and had daughters to her first marriage to William Parker Simpson. In 1895, Henry's eldest son Ernest James Theodore (Theo) Mashman was born to parents Henry and Elizabeth.
The demand for drain and agricultural pipes increased, and the firm concentrated on their manufacture. However, by the 1890s the pottery began to dabble in art ware. As part of this initiative Thomas Stevens, a potter of note from Doultons in England, emigrated with his family in 1894 and joined the firm at Chatswood producing art ware pieces. This was discontinued by 1898 due to poor sales. (See photo of Henry with pottery staff circa 1894 in Geoff Fords' Book 'Australian Pottery: The first 100 years' p 104)
Six more blocks of land were purchased in 1896 resulting in the pottery now covering 10 blocks bounded by four streets. The firm employed more men and began to expand and, with a great demand for pipe production, domestic ware production was ceased.
By the turn of the century most of the Mashman family had ceased to live on the Chatswood site. Around 1900 Mashman Brothers Pottery released a comprehensive illustrated price list (see Geoff Ford's book 'Australian Pottery: the First 100 years' pp 106-109). They also began to produce domestic pottery under the stamp 'MASHMAN CHATSWOOD'.
Henry's second son Harry Raymond Clifford Mashman was born in 1902.
By 1906 there were approximately 29 employees at the Chatswood pottery site, the Mashman Pottery becoming a major employer of local residents over many years.
New drying sheds and kilns were built at both Chatswood and Auburn in 1911, and a large new steam engine was established at Chatswood to drive the new pipe manufacturing machine. In 1912 on the death of his older brother William, Henry Mashman became Chairman and Managing Director.
On 22 December 1915 Henry walked his youngest stepdaughter Pansy Simpson down the aisle at St Stephens Church Chatswood to be married to Ernest James Davidson, his brother Rev George Mashman being amongst the clergy officiating.
Mashman Brothers became a limited liability company in 1920. Later that same year, skilled potters Robert Leiper and his sons David and Sid began working at the Chatswood pottery again producing the art ware for which the pottery became famous.
Henry died on 19 April 1922, at a private hospital aged 67 years. At the time of his death, he was a member of the GUOOF Pride of Willoughby Lodge, and his residence was 'Killarney', Gordon, or Lane Cove Road (now 822 Pacific Highway), Chatswood, which was located on the Western side between Fullers Road and View Streets. He left an estate to the value of £21,672 to his wife and children, the majority of which comprised his shares in public companies. His son Ernest James Theodore (Theo) Mashman became Chairman and Managing Director of Mashman Brothers.
Biography of Theo Mashman – https://adb.anu.edu.au/biography/mashman-ernest-james-theodore-theo-7509
Reference
1. Ford, G. Australian Pottery: The first 100 Years, Salt Glaze press, 1995, pp100-116.
2. Ford, G. Encyclopedia of Australian Potters Marks 2nd Edition, Salt Glaze Press, 2002, pp152-154.
3. Johnston, Dorothy: The People's Potteries, 2002, pp23-5,115-116.
4. Ungar, E.A, The Mashman Brothers Pottery, Australian Society for Historical Archaeology Papers in Australian Historical Archaeology Chapter 6, 1987.
5. Ungar, E.A, 'Mashman, Ernest James Theodore (Theo) (1895–1964)', Australian Dictionary of Biography, National Centre of Biography, Australian National University, http://adb.anu.edu.au/biography/mashman-ernest-james-theodore-theo-7509/text13095 accessed 2 January 2013.
6. Clay Products Journal of Australia, 1 Aug, November 1, 1934.
7. Miller, Jean Pottery: A Willoughby Pioneer Industry: The Mashman Story, self- published through Wild and Woolley Pty Ltd, 1999.
8. Leighway – Newsletter of the Leigh Society Vol 17-New Year 2006 p17.
9. Phone interview with Michael Mashman February 2013 & April 2022
10. Graham, Marjorie Australian Pottery of the 19th an early 20th Century National Trust Women's Committee 1979 p124.
11. Timms, Peter Australian Studio Pottery and China Painting, Melbourne, Oxford University Press, 1986 p73.
12. Graham, Marjorie The Australian Antique Collector, 35th Edition, pp70,72,73.
13. Warne, Catherine Pictorial History Lower North Shore Kingsclear Books, 2005, pp44-47.
14. Funeral Notice Daily Telegraph (Sydney, NSW: 1883 – 1930), Thursday 20 April 1922, p4 via Trove http://nla.gov.au/nla.news-article24Other 6446884.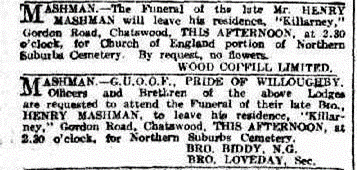 15. Death Notice Sydney Morning Herald (NSW : 1842 – 1954), Thursday 20 April 1922, p8 from Trove http://nla.gov.au/nla.news-article 28081869.

16. Registry of Births, Deaths and Marriages NSW Index of Marriages Registration No. 6628/1893.
17. Birth Record of Ernest James Theodore Mashman – Registry of Births, Deaths and Marriages NSW Index of Births, Registration No. 38260/1895.
18. Birth Record Harry R C Mashman – Registry of Births, Deaths and Marriages NSW Index of Births Registration No 16493/1902.
19. Arnold, K: Collecting Australian Found Stoneware, 1989 p40.
20. Probate notice for the late Henry Mashman, Sydney Morning Herald (NSW : 1842 – 1954), Friday 4 August 1922, p6 from Trove http://nla.gov.au/nla.news-article16017027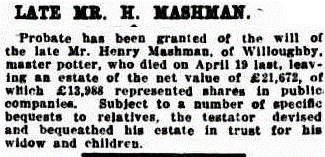 21. Article re probate of the Late Henry Mashman, Sun (Sydney, NSW : 1910 – 1954), Thursday 3 August 1922, p8 from Trove http://nla.gov.au/nla.news-article221506847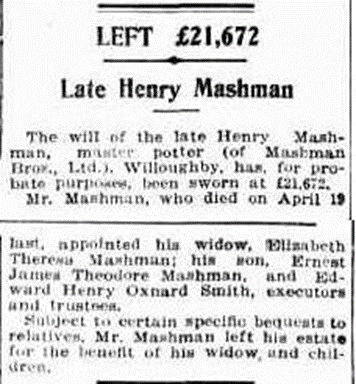 22. Sydney Morning Herald (NSW : 1842 – 1954), Saturday 11 March 1916, p16 on Trove http://nla.gov.au/nla.news-article15670304
23. Marriage of Pansy Fedora Simpson to Ernest James Davidson Marriage Cert No: 15990/1915.
24. Photo of Henry Mashman is available from the Chatswood Library, Picture Willoughby Image Number 227381 – NB also states his date of birth as 2 April 1855.
25. Sands Directory 1922 Part 8 – Suburban Directory – St Peters to Woollahra, p49 and 1932-33 Part 9 p9.
26. English Census information supplied by Stephanie Cameron, April 2022.
27. Macquarie Park Cemetery and Crematorium website https://nmclm.com.au/locations/macquarie-park : Find a loved one search function.
Day, Harriett Eliza (sister)
Date of birth: 1845
Date of death 21 09 1931 Aged 87 years
Date of burial: 22 09 1931
Location: METHODIST MONUMENTAL, C2, Grave 0010
Day, William J (brother-in-law)
Date of birth: c1852
Date of death: 1939 aged 86 years
Date of burial:
Location: METHODIST MONUMENTAL, C2, Grave 0010
Mashman, Charles (brother)
Date of Death 24 02 1933
Date of burial 25 02 1933
Location: CHURCH OF ENGLAND, R3, Grave 0063
Elizabeth Mashman (wife)
In same grave as Henry Mashman
Location: CHURCH OF ENGLAND section, G1, Grave 0005